ANWYNN Melodic Death Metal CLUBSHOW
Saturday 10 November 2018 8:00 PM Saturday 10 November 2018 11:00 PM
Save
Saved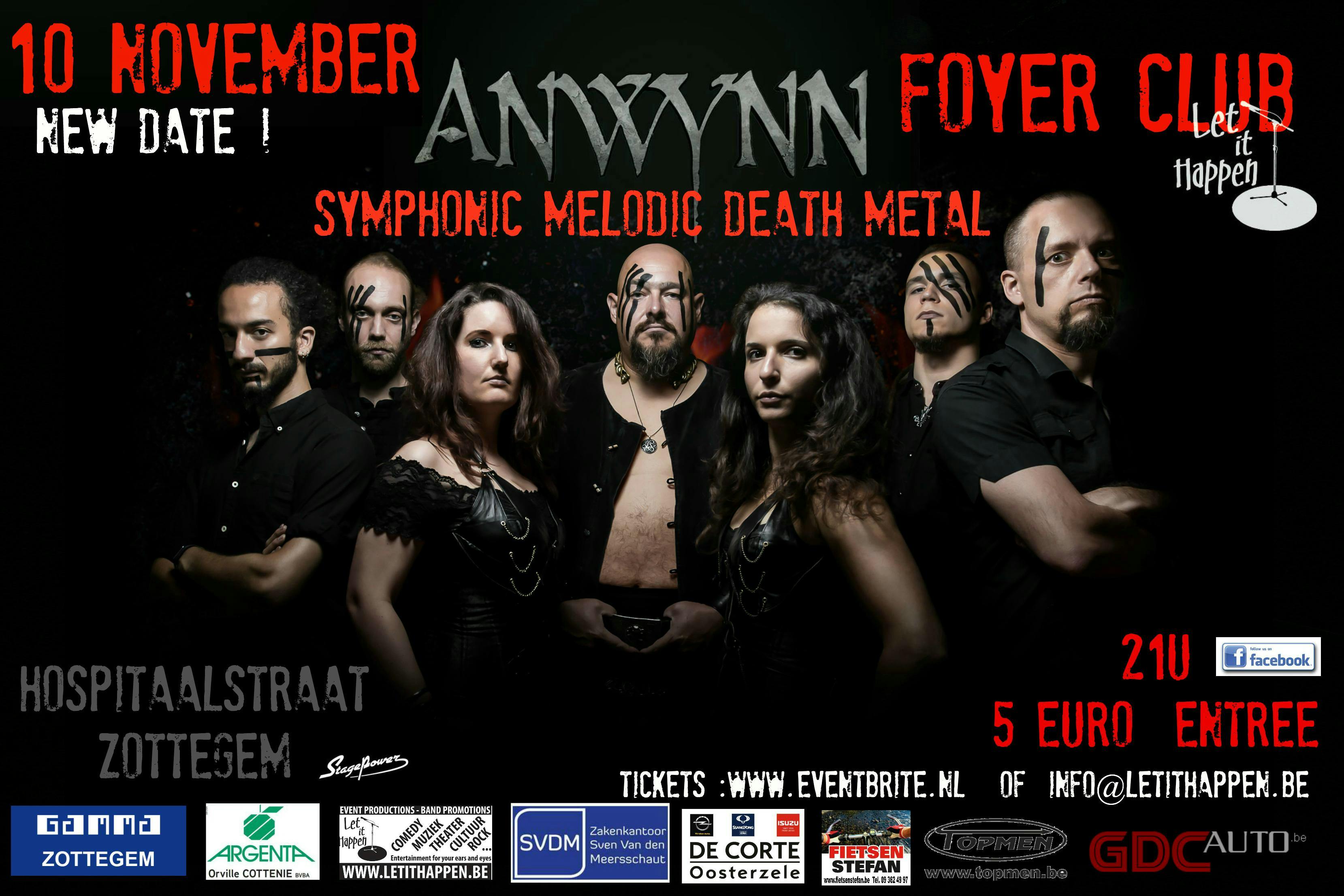 Last update 11/11/2018
1813
Tussen krachtige riffs en een symfonisch orkest, combineert Anwynn het beste van beide werelden. Een tomeloos muzikaal enthousiasme en bruisende live-energie, zijn hierop de perfecte aanvulling.
Anwynn is een Belgische, symfonische metal-Groep; op een stevig fundament van melodieuze death metal, bouwt de band verder met een duo van vrouwelijke vocalen en diepe growls, ondersteund door bombastische orchestraties en afgewerkt met een vleugje folk.
Opgericht in 2007, toen reeds in een melodieuze stijl met vrouwelijke stem, luidde de komst van growler Bouc, met zijn indrukwekkende podiumpresence, een meer death-metal-getint tijdperk in. Na het uitbrengen van het eerste album "Forbidden Songs" in 2012, liet de band zich opmerken op podia zoals het Prog Power Metal Fest (PPM Fest) of het Metal Female Voices Fest (MFVF), naast groepen als Epica, Arch Enemy en The Scorpions.
In 2015 bracht de band in eigen productie de E.P. "Swords & Blood" uit: een mix van de reeds bekende elementen en frisse invloeden, aangesterkt door een professionele productie die hun composities volledig tot hun recht doet komen. Vergezeld van een gelijknamige videoclip, laat deze release de groep toe om zijn potentieel volledig waar te maken. Hierbij brengen ze de complementaire invloeden van onder andere de lyrische klanken van bands als Nightwish, de kracht van Machine Head-riffs, de "warrior spirit" van Amon Amarth en de massieve symfonieën van Septicflesh, samen. De gevarieerde vocale harmonieën van Eline en de soms-subtiele, soms-dominante tonen van het keyboard van Astrid, slaan daarenboven een brug tussen het zware en het melodieuze.
Live brengt de band een show vol dynamische energie, gedragen door de kracht die uitgaat van de songs, en dit op zowel Belgische als internationale podia. Anwynn opende bijvoorbeeld reeds voor artiesten als Liv Kristine (2015) of tourde de Benelux met de Femmetastic tour (2016).
Heden wordt er hard gewerkt aan nieuw materiaal voor het tweede album. Hoewel muzikaal de logische opvolger van Swords & Blood, zal het nog verder gaan in het integreren van diverse invloeden, met als resultaat nog pakkender refreinen, nog zwaardere riffs en nog epischer symfonieën.
Prepare for battle !
Nearby hotels and apartments
FOYER
Hospitaalstraat, Zottegem, 9620, Vlaanderen, Belgium
Hospitaalstraat, Zottegem, 9620, Vlaanderen, Belgium